Leif Cocks OAM (2019)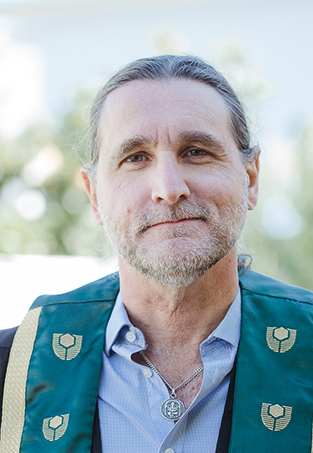 Leif Cocks OAM- 2019 John Curtin Medal recipient
For more than three decades, Leif Cocks has worked tirelessly to improve the welfare of orangutans in captivity and ensure their ongoing survival in the wild. As a zoologist, author, speaker and founder of the international charity, The Orangutan Project, he is a world-renowned orangutan advocate and outspoken campaigner on their behalf.
After graduating from Curtin in 1985 with a Bachelor of Applied Science, Leif began working at Perth Zoo, where he eventually became the orangutan keeper. Fascinated by the animals he worked with, Leif went on to complete a Graduate Diploma in Natural Resources at Curtin – specialising in primate behaviour – and then a Master of Science (Biology) in Curtin's Department of Environmental Biology. Through his work and research, Leif came to the conclusion that orangutans cannot survive through captive breeding programs alone. The only way to ensure their survival is to save them in the wild.
Leif founded the Australian Orangutan Project (now The Orangutan Project) in 1998 and has been President of the organisation since its inception. The organisation aims to raise public awareness and funding to increase numbers of the endangered species in the wild. His vision is that all orangutans live in their natural habitat in secure and viable populations.
Since its formation, The Orangutan Project has grown from just three volunteers to become a highly respected multi-million-dollar international charity. It has contributed more than $14 million directly to orangutan conservation projects and has earned a reputation amongst its partners and donors for being financially responsible and transparent.
Respect for Leif has given The Orangutan Project world standing in conservation. He has been a key player in developing conservation plans for orangutans – including the first ever successful introduction of a zoo-born orangutan into the wild. Leif's conservation work has had an impact not only on orangutans, but also on the environment, other species and the local Indonesian communities that call these forests home. The introduced animals are now thriving, and the associated publicity has meant that the animals' ecosystems are more likely to be protected from logging and plantations.
In the past 20 years, The Orangutan Project has won three major legal cases against deforestation and rescued 84 orangutans from dangerous captive situations. Leif continues the fight for orangutans in the court room as an expert witness. In 2014 he was called upon as a world-renowned expert to testify in an Argentinian court case for an orangutan in the Buenos Aires Zoo. Through his testimony, it was decided that the animal did have rights and the Zoo had to provide an adequate habitat and activities for the orangutan to thrive.
Leif is also President of the International Elephant Project, International Tiger Project and Wildlife Asia, the Vice-President of the Orang Utan Republik Foundation, and sits on the Technical Advisory Boards of several Indonesian conservation organisations.
Incredibly, he has also found time to author three books – Orangutans and their Battle for Survival, the #1 Amazon Best Seller Orangutans My Cousins, My Friends and Finding Our Humanity, which launched in April 2019.
Intelligent, engaging and driven, Leif is the sort of person who would succeed at whatever he turned his hand to – yet he has selflessly dedicated his life to protecting his beloved orangutans. He has been quoted in the media as saying, "It's an all-consuming thing which might not necessarily bring financial or academic rewards, but the rewards are achieving a higher goal for conservation and animal welfare."
For his tireless work to protect orangutans, Leif Cocks is a worthy recipient of the John Curtin Medal.