Patricia Tibbett (2019)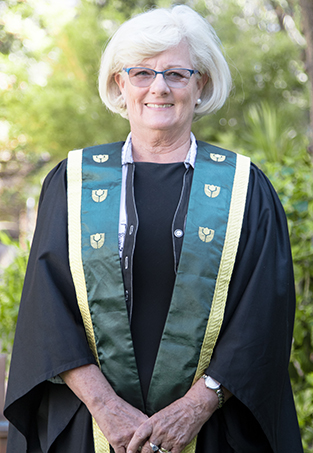 Patricia Tibbett - 2019 John Curtin Medal recipient
Patricia Tibbett has played a key role in transforming nursing as a profession in Western Australia. She implemented key changes in the career framework for nurses that, for the first time, recognised the value of clinical nursing, and she fought hard for the delivery of patient care by nurses to be as highly valued as nursing management and education.
Patricia's lifelong contribution to nursing began decades ago, when nursing was taught as vocational training and entrenched in a conservative and hierarchical health system that mirrored traditional views of women in society.
Patricia held a clear view that nurses – and the women who almost exclusively made up the nursing workforce – were critical to modern health care delivery and essential to ensuring excellence in care for patients and the community. To be more valued and effective, she believed that nursing had to be professionalised through the creation of more robust clinical and research pathways.
In delivering her vision, Patricia led changes on two fronts. The first was to implement an improved career framework for nurses. She set about the complex negotiations required – facing the conservative terrain of health departments and hospital structures, powerful lobby groups (including the Australian Medical Association), diverse representative and union groups, and traditional teaching colleges. After significant consultation, she arrived at a feasible career structure that could be interpreted industrially, function across a broad group of health delivery settings and be true to her vision of professionaling nursing.
Having achieved this, Patricia moved on to become one of the most influential Directors of Nursing at a West Australian hospital. At Royal Perth Hospital she oversaw the implementation of the clinical career framework, then played a key role in broadening the internal management structure to include nurses as key directors alongside their other professional colleagues. This became the blueprint for organisational management in tertiary hospitals.
While at Royal Perth Hospital, Patricia also initiated the Nursing Research Foundation, which was launched in 2001. The Foundation, built on Patricia's vision, thrives today as a driver of clinically focused nursing research that brings together universities and hospitals to advance clinical knowledge and practice. Importantly, the Foundation has contributed significantly to transforming nursing from a purely vocational calling to a dynamic research-driven profession.
Working more broadly than just the nursing profession, Patricia was also highly committed to the importance of health service delivery and public confidence in Western Australia's healthcare institutions. Througout her career, Patricia worked tirelessly to engage with all levels of health service providers, patients and the community to ensure this confidence was not undermined or misplaced.
Patricia is regarded by her peers as courageous and determined, yet always polite, respectful and open to a broad spectrum of views. An articulate and effective advocate for the nursing profession, she stepped up to speak on behalf of many, often where no voice had previously been heard.
Now retired, Patricia continues to lead charitable organisations such as the Friends of Royal Perth Hospital and is actively engaged in the continuing success of the Nursing Research Foundation.
For her outstanding contribution to the nursing profession and to health care delivery in Western Australia, Patrica Tibbett is a worthy recipient of the John Curtin Medal.